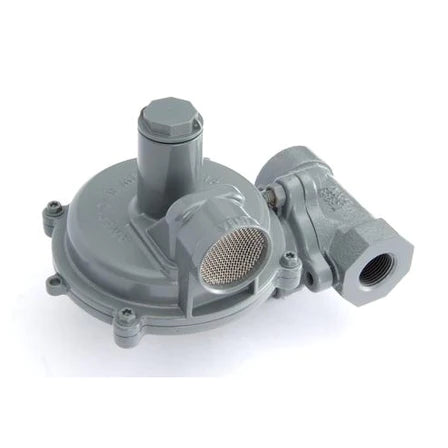 1" SR113 Gas Pressure Regulator | 5/16" Orifice | 7-12" WC Spring
Original price
$104.95
-
Original price
$104.95
The compact, high capacity SR113 service regulator is designed for residential or light commercial/industrial applications using various hydrocarbon or other non-corrosive gases. 3/4" comes in a 90 degree or 180 degree body. Standard with a 180 degree body for 1" & 1.25" NPT.
Applications:
Residential
Light commercial
Features:
Outlet pressure ranges available in 6" W.C. up to 2 PSIG.
Variety of interchangeable orifices.
Wide capacity range provides the ability to standardize on varying applications
Full lockup capability provides assurance that downstream pressure will not build up during no-flow situations
Full capacity relief provides safety during abnormal overpressure occurrences
Compact design combined with high performance
Cast Iron Valve Body Sizes 3/4"; available in 90 degree (right angle), 180 degree (straight) and offset configurations.
Capacities through 2500 SCFH.
Full capacity internal relief valve. 3/4" or 1" NPT threaded vents. Molded Diaphragm provides more precise outlet pressure control.
All models conform to ANSI Code B109.4 and CGA Service-type Regulator Specification CAN/CGA 6.18-M95.