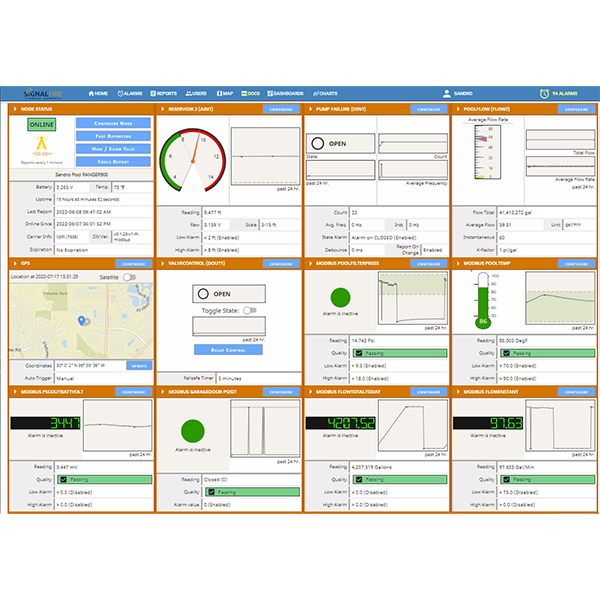 2-Year Data Plan & SignalFire Cloud Extension (60 Second Report Interval)
Original price
$400.00
-
Original price
$400.00
The SignalFire Cloud is an easy to use, feature rich web application that enables RANGER modem users to remotely monitoring and even control assets. 
Each RANGER ordered with a SignalFire Cloud plan includes access to a web and mobile friendly interface to monitor, trend and get alarms either by text or email. It uses secure MQTT technology that can also be integrated with private cloud platforms. The ready-to-go Cloud interface provides for remote configuration and troubleshooting of the RANGER node and its attached sensor(s). It is also possible to turn on/off the relay output from the Cloud interface to remotely control pumps, motors, valves and more.
The SignalFire Cloud platform offers historical trends for 3 years with data exporting in popular formats as well as reporting by exception to a predefined list of users. All the data belongs to the user of the RANGER and it is secured using Amazon Web Services (AWS). There is no programming necessary to retrieve the data from a RANGER. Simply claim the RANGER to your account using the IMEI of the device and it will immediately show up on your personal dashboard. From there you can assign users that will receive alarms based on the measurement of the sensor.
Featuring:
Rapid commissioning to instantly measure, monitor and control

Configurable alarms reported by SMS, Email & web viewer

Configurable & Automated reports by email
Measurements assignable to widgets & charts
Configurable user access privileges
Monitor measurement from any web browser
Secured TLS/SSL User Authenticated sessions
Plug-and-Play device connectivity
Remote configuration of RANGER and attached sensors (coming soon)
Over-the-air update of firmware
Viewing of devices with status on a map from RANGER's built-in GPS
Remote configuration of Modbus Registers